 
LogTag UTRED30-16WIFI Temperature Recorder
Automatically uploads real-time temperature data to your LogTag® Cloud account via a Wifi connection It has a large, easy-to-read display and the many features offered by the LogTag® family of dataloggers.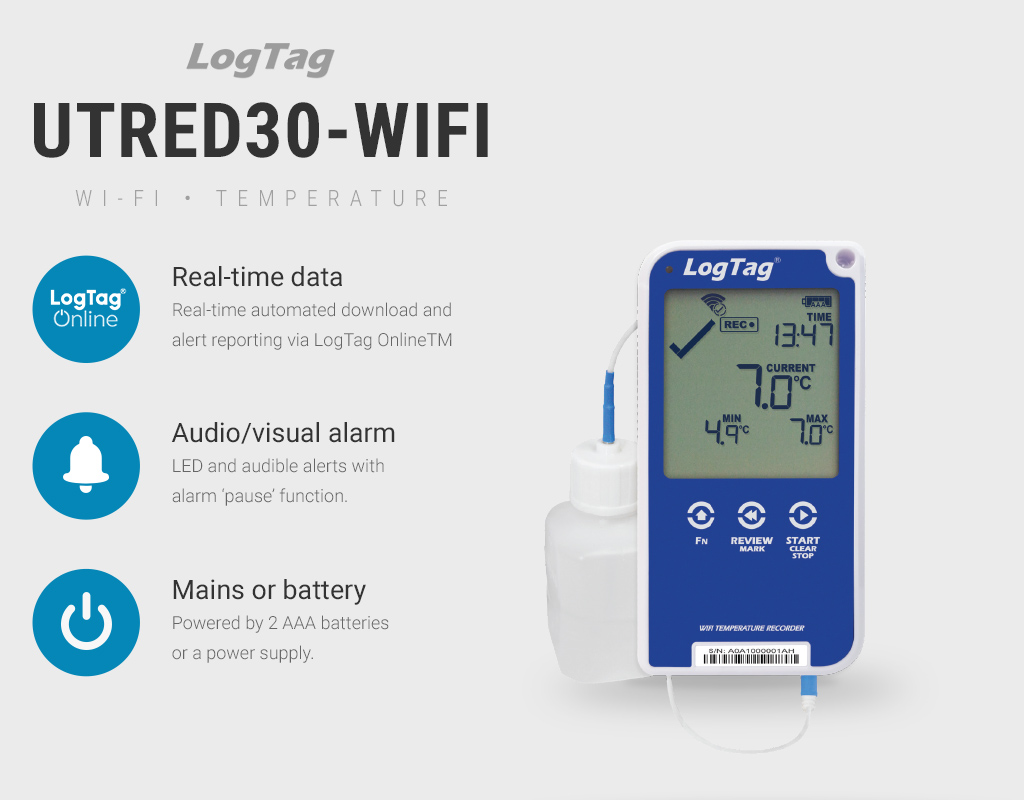 The LogTag ® UTRED30-16WiFi temperature data logger automatically uploads real-time temperature data to your LogTag ® Online cloud account via your existing wireless network.
It features a large, easy-to-read display, along with many familiar attributes known from the LogTag ® family of data loggers.
These include non-volatile memory for up to 16,129 temperature readings and a statistical memory, storing maximum and minimum reading as well as alarm duration for each of the last 30 days.
Outstanding Aspects:
Real-time data automatically uploaded via WiFi to the LogTag Online cloud. 
Audible alarm and flashing red LED signals a temperature alarm
Read current temperature and latest Min-Max temperature at a glance.
Can be powered by 2x AAA batteries (user replaceable) if not external powered. 
Download data via LogTag Analyzer or as a PDF (no software required) when WiFi is unavailable. 
Measure and store up to 16,000 readings – enough for 67 days at 6 minute logging. 
Auto-pause function suspends alarm & statistic processing when the external sensor is unplugged.
View alarm status for up to 30 days at a glance. 
Check and reset Min-Max temperature reading at any time. 
Second battery backup via a coin cell to ensure no data is lost.

Data sheet
Rango de temperatura

de -40°C a +99°C

Capacidad de memoria

16.000 lecturas (memoria no volátil)

Precisión

±0.5ºC de -6.5 ºC a 6.5 ºC

Resolución

0.1 ºC en todo el rango de temperatura

Intervalo de medida

mínimo de 30 segundos

Opciones programables LCD

Temperatura mínima y máxima registrada

Función de alarma

Límites altos y bajos programables La alarma se activa cuando excede los límites

Tamaño

141mm x 72mm x 18mm

Peso

80g (pilas no incluidas)

Certificación de calidad

Probado y cumple con las directivas CE EMC (EN 50081-1:1992 y EN 61000-6-1:2001) Comprobado y conforme a EN12830: 1999 para transporte, almacenamiento y distribución de refrigerados, congelados, alimentos ultracongelados y otros.

Opciones sensor externo de temperatura

Sonda de acero inoxidable de 12.7 cm flexible de 12.7cm.

Tiempo de descarga

Por lo general con una memoria completa en menos de 5 segundos

Durabilidad

IP51

Fuente de alimentación

5V via micro USB socket or, 2 x 1.5V AAA alkaline batteries. CR2032 LiMg coin cell (backup logging function only)

Conectividad

WiFi IEEE 802.11 / WPA/WPA2 y Conector MicroUSB 2.0
Otros productos de Thermographs with external Sensor
TOP