 
LogTag TREL30-16 Temperature Recorder
Register of very low temperatures with an external measuring sensor and display.
Margin of temperature-90°C… +40°C
Precision up to ±1.0°C.
16.000 points of measurement.
Minimum interval of measuring 30 seconds.
Replaceable battery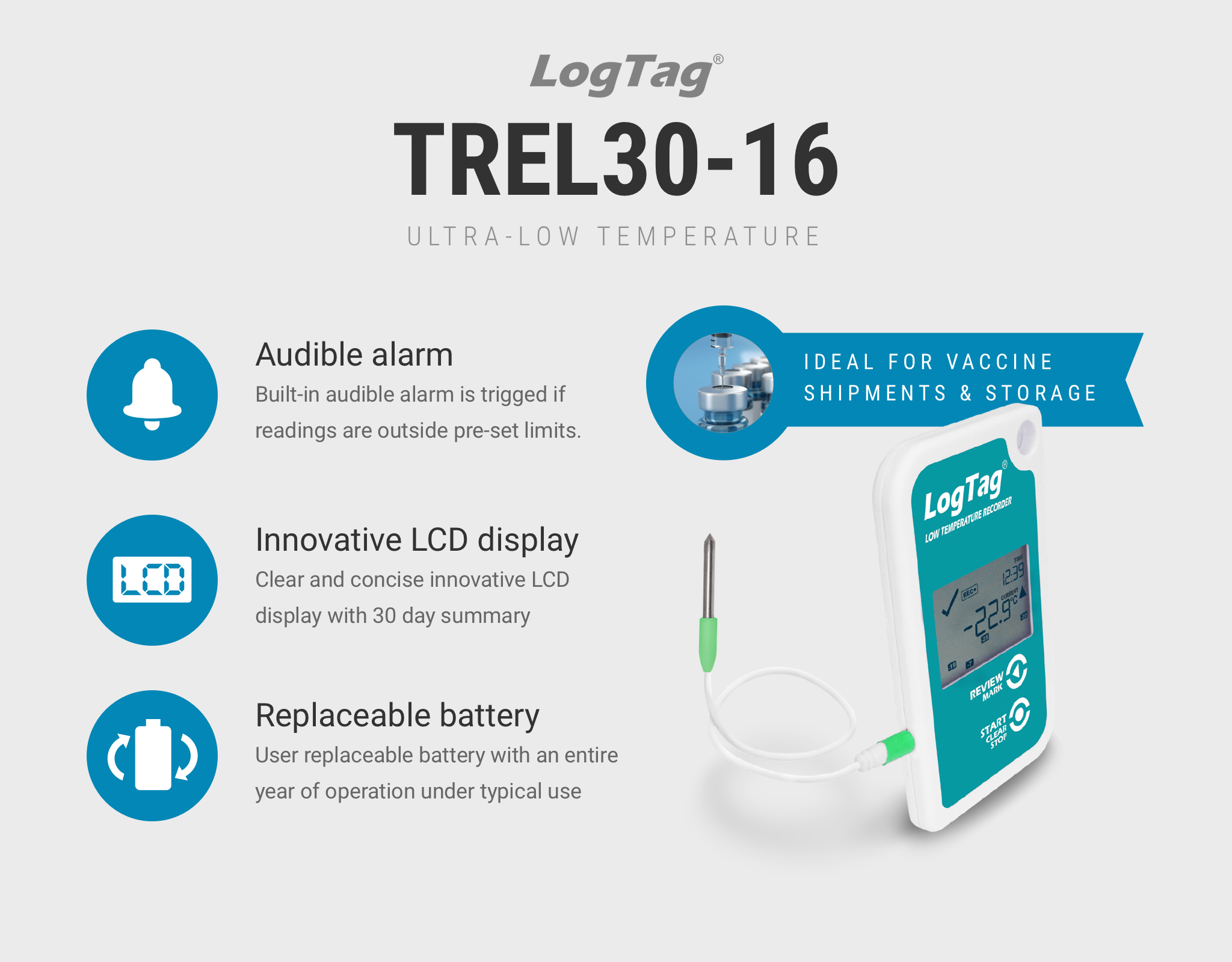 Monitoring of items stored at very low temperatures, such as in dry ice type environments, where a remote probe is required.
The display is designed to show 'at a glance' if temperature deviations have occurred during the current day and up to the previous 29 days. The display also shows the current temperature reading, the current time, the logging status and the battery status.
The alarm is activated if the temperature readings are outside the preset alarm limits. The status indicator changes from ✔ to ✖ and, if set, the audible alarm sounds. The day marker will also appear if it is not already present.
The alarm status indicator and the audible alarm can be easily deactivated, but the day marker remains to ensure that a visible record of deviations is shown on the display. A simplified procedure for deactivating, stopping and starting alarms is available as an option.
Details of deviations over the past 30 days can be checked directly by inspecting the statistical history on the logger's display or, in more detail, by downloading the recorded data using a standard LogTag® interface support in LogTag® Analyzer" management software.
To configure and download data it is necessary to use an interface which is not included. It consists of a base that can be attached to the datalogger, it is connected to the computer via USB cable.
The software allows for visualisation of data graphically to analyse data. It also allows exporting of data so that they can be used with other tools.
Compatible with Windows operating systems and complies with FDA 21 CFR Part 11.

Outstanding Aspects:
Integrated audible alarm
New easy-to-read LCD display with a 30-day overview in calendar format.
Up to 15,900 records - enough memory for 66 days with records every 6 minutes.
Automatic pause function: when the external probe is unplugged, alarm and statistics processing is automatically suspended.
Record inspections at the touch of a button.
Interchangeable external probe with high quality silver connector
Extensive customisation options including alarm settings, display interval and trip duration
Complies with FDA 21CFR11.
FREE USB connection base for orders of over 15 units of this product.

Data sheet
Rango de temperatura

de -90°C a +40°C

Capacidad de memoria

16.000 lecturas (memoria no volátil)

Precisión

±0.5ºC de -6.5 ºC a 6.5 ºC

Resolución

0.1 ºC en todo el rango de temperatura

Intervalo de medida

mínimo de 30 segundos

Función de alarma

Límites altos y bajos programables La alarma se activa cuando excede los límites

Tamaño

86mm(H) x 54.5mm(W) x 8.6mm(T)

Peso

35 gramos / Policarbonato

Certificación de calidad

Probado y cumple con las directivas CE EMC (EN 50081-1:1992 y EN 61000-6-1:2001) Comprobado y conforme a EN12830: 1999 para transporte, almacenamiento y distribución de refrigerados, congelados, alimentos ultracongelados y otros.

Accesorios

Sensor exterior con cable de 0.5m o 3m.

Tiempo de descarga

Por lo general con una memoria completa en menos de 5 segundos

Durabilidad

Estandar IP61

Fuente de alimentación

Pila de botón de LiMg CR2032 reemplazable

Conexión al PC

Requiere base de conexión LogTag no incluida
Otros productos de Thermographs with external Sensor
TOP