 
LogTag HASO-8 Temperature Humidity Recorder (For One Use Only)
Ideal for the economical supervision of temperature and the relative humidity sensitive merchandise in long haul and short haul transport.
Margin of temperature-40°C… +85°C
Margin of humidity 0 … 100%
Precision up to ±0,5°C/ <±3%rF
8.000 points of measurement
Minimum interval of measurement of 30 seconds.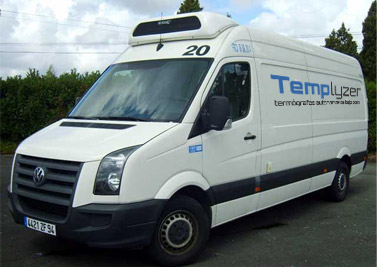 The datalogger for one use only contains 2 internal sensors, a sensor that works at a temperature of between40°C~ +85°C. and another one which measures the relative humidity from 0-100%. The sensor is very precise and provides a rapid reaction in times of change.

The LogTag HASO-8 includes 2 LEDs to indicate the state of the datalogger (LED OK and Alarm LED) and a button to start recording. The registry recording can be started with the button or programmed with a delay.
Allows the recording of up to 8032 samples and the frequency of sampling can be configured from 30 seconds up.
To configure and download data it is necessary to use an interface which is not included. It consists of a base that can be attached to the datalogger, it is connected to the computer via USB cable.
The software allows for visualisation of data graphically to analyse data. It also allows exporting of data so that they can be used with other tools, for example Microsoft Excel
Compatible with Windows operating systems.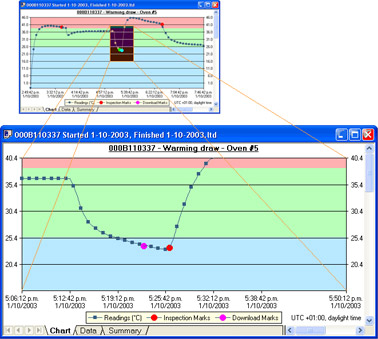 Outstanding Aspects:
Unbeatable value for money.
Size of a credit card.
Large memory capacity for 8,000 measurements.
Reliable and long-lasting.
Complete download of data in a few seconds.
Alarm LED; flashes when preselected sectors are breached.
Very potent software which can be downloaded for free.
Automatic loading of data to a central FTP server.
Individual series number allows for individual calibration.
Start up of measuring through a selection of software or directly in the recorder.
Marker function; pressing the key the user can establish a time marker in the data memory.
  


Data sheet
Rango de temperatura

-40 ºC a +85 ºC.

Capacidad de memoria

8.000 lecturas

Precisión

±0.5ºC de -6.5 ºC a 6.5 ºC

Resolución

0.1 ºC en todo el rango de temperatura

Intervalo de medida

mínimo de 30 segundos

Función de alarma

Límites altos y bajos programables La alarma se activa cuando excede los límites

Tamaño

86mm(H) x 54.5mm(W) x 8.6mm(T)

Peso

35 gramos / Policarbonato

Certificación de calidad

Probado y cumple con las directivas CE EMC (EN 50081-1:1992 y EN 61000-6-1:2001) Comprobado y conforme a EN12830: 1999 para transporte, almacenamiento y distribución de refrigerados, congelados, alimentos ultracongelados y otros.

Rango de humedad

10% a 100% RH

Precisión de humedad

+/- 4% de 10 a 90% HR +/-5% de 90 a 100% HR

Resolución de humedad realtiva

0.4% desde 10% hasta el 100%

Tiempo de descarga

Por lo general con una memoria completa en menos de 5 segundos

Durabilidad

Estandar IP61
Otros productos de Thermographs with integrated Sensor
TOP